Mishaum mourns the death of Richard S. Perkins Sr.
Long time Mishaum resident Richard S. Perkins, Sr. died April 10, 2003, in Hobe Sound, FL.
He was born in Milton, MA, in 1910 and spent many years on Mishaum in the
Point House. He had a career in banking, becoming Chairman of the Executive Committee of
Citibank. He also held many corporate directorships and was active in numerous
charitable and civic organizations in New York City.
He was a Trustee of the Metropolitan Museum of Art and the Carnegie
Institution of Washington. He leaves his wife, Audrey W. Perkins, children,
Richard S. Perkins, Jr., Thomas H. Perkins, Sarah H. Perkins and Judith S.
Perkins, five grandchildren and seven great grandchildren.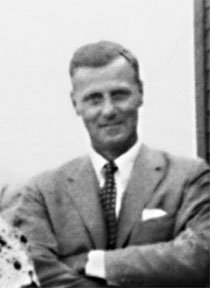 Richard S. Perkins, Sr.